– Defense and security communities world-wide generally agree that there is an urgent need to develop effective counter-terrorism narratives. We disagree.  We do more than that. The Narrative Strategies Team goes beyond defensive maneuvers and counter messaging. We are not playing catch-up with our adversaries.  We change the game entirely. We influence the narrative environment. We change how power works, says Founder and CEO Ajit Maan, Ph.D. 
By Editor-In-Chief Jan H. Kalvik
Defence and Intelligene Norway
The Narrative Strategies Team are former Special Operations, high-level political advisors, intelligence professionals, and internationally recognized narrative and identity scholars, working together to deliver practical actionable, strategic, and intrepid support to their clients.
Narrative Strategies is the only think-and-do tank currently postured to deliver both Operationalized Narrative services and training at the most elite level.
Their combination of Subject Matter Experts is unparalleled. Narrative Strategies' founder literally wrote the book on the forms and functions of Strategic Narrative to Counter Terrorism.
Defence and Intelligence Norway has the honour to present books by members of the The Narrative Strategies Team. You can find more information regarding the books at www.narrative-strategies.com/publications.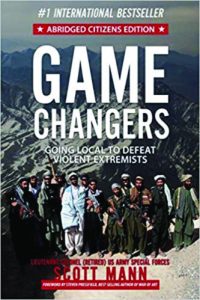 Game Changers by Scott Mann
"As an urban police chief, I have issued "Game Changers" to every officer in our agency. I have based my strategic plan on his methodology, and it has proven to be a surefire approach to a return to stability, community empowerment, and most importantly, trust. By closing those gaps, security has naturally followed. Highly recommended!"
– Matthew Millsaps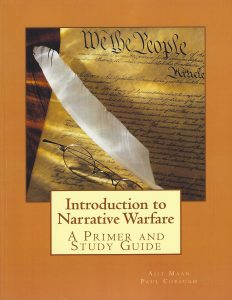 Introduction to Narrative Warfare by Ajit Maan and Paul Cobaugh
"When it comes to looking at the narrative/ master narrative and how to view its place in warfare – in is Ajit Maan that continues to do some of the most comprehensive cutting edge work on the subject. Part of the bigger problem in working or dealing with the narrative is the issue that exists because there is no one defining official definition by DoD or even NATO that exists. Without an official definition – the implied definition is used and such has sweepingly different definitions that are defined by each different attempt to interpret how it can be used.  
In such a world – it is Maan who has defined the narrative in her works and allowed for that definitive definition to be applied and to be understood in its role in modern warfare. From it one can gain the ability to focus the efforts that are required to both understand the role of the narrative and to apply that to planning and execution in a multi-level environment at both the operational and strategic levels. Her work on the narrative is a critical item for understanding Information Warfare and both its application in offensive and defensive strategies that are far past the conventional mindset approach to war."
– LTC (R) R. Eric Udouj
Tampa, FL
"By reading this book I gained broad insight and new learning. The context of the book provides a wide view and broad organizational platform to suggest solutions to the problem. I strongly recommend Narrative Warfare. This topic is most relevant today in our new world order."
– Arne Gerrit Halvorsen
Chief Police Inspector and Captain Royal Norwegian Air Force
Commander of UN and NATO Military Police Special Investigation Groups.
Member of the UN War Crime Investigation in Former Yugoslavia.
(Retired)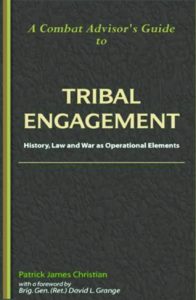 A Combat Advisor´s Guide to Tribal Engagement by Patrick James Christian
"I finally finished Patrick Christian's work and can say it is one of the best perspectives I have read lately on tribal engagements. I will certainly keep it as a guide for any future deployments."
– Major General Ed Reeder, CG, 1st US Army Special Forces Command, Ft. Bragg, NC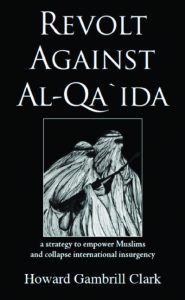 Revolt gainst Al-Qa`ida by Howard Gambrill Clark
"The United States and the West continue to fail in efforts to counter the single al-Qa`ida narrative. Howard Clark, in his brilliantly written book, sets forth a strategy for defeating al-Qa`ida and for ultimately destroying its ideology.  This book should be required reading for all those deploying to the war zones and for policymakers responsible for countering violent ideological extremism."
-The Honorable Charles E. Allen, retired U.S. Department of Homeland  Security Chief Intelligence Officer and Undersecretary for the Office of  Intelligence and Analysis; former CIA (47 year veteran) National  Intelligence Officer for Counterterrorism and Counterterrorism Center  Deputy Chief.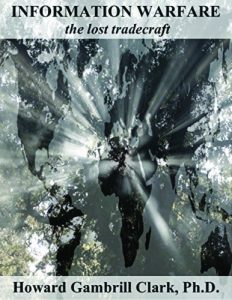 Information Warfare by Howard Gambrill Clark
"If you live and breathe in the information age, you owe it to yourself to read this book. The first chapter alone, in its sweep and scope of history, is worth the price of admission, but read on for a clear-eyed introduction into the practice and theory of information tradecraft. It's like getting the Russian playbook the night before the big game. At the very least you'd flip through it, although a sane person would squeeze every last advantage she could out of its pages."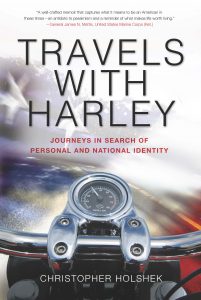 Travels with Harley by Christopher Holshek
"Travels with Harley is far more than a travelogue or a memoir. It is also a voyage of civil-military discovery that addresses the most critical lessons of Vietnam, Iraq, and Afghanistan ― that real peace means finding a level of national and community stability that can meet the psychological as well as physical needs of people in afflicted areas."
– Anthony H. Cordesman, Burke Chair in Strategy Center for Strategic and International Studies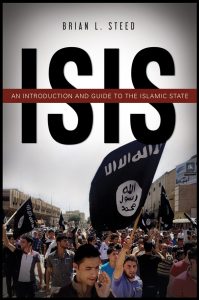 "ISIS: An Introduction and Guide to the Islamic State by Brian L. Steed
"ISIS: An Introduction and Guide to the Islamic State delivers precisely what the title suggests―a well-organized primer that escorts readers through the complex task of understanding a 'state' very different from their own. . . . Brian Steed masterfully distills this information into a 'so what' reference guide for anyone wanting to make sense of the conflict or understand the salafi-jihadist narrative. . . . [T]he author's unique contribution to the field is his ability to synthesize key ideas and make them accessible to ordinary readers. ISIS: An Introduction and Guide to the Islamic State is a 'one-stop' reference guide suitable for both commanders and those wanting to make sense of the nightly news. It would be an excellent addition to any battalion squadron library."
– Military Review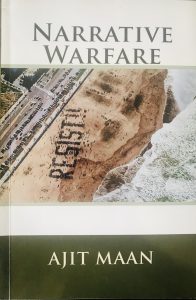 Narrative Warfare by Ajit Maan
"When it comes to looking at the narrative/ master narrative and how to view its place in warfare – in is Ajit Maan that continues to do some of the most comprehensive cutting edge work on the subject. Part of the bigger problem in working or dealing with the narrative is the issue that exists because there is no one defining official definition by DoD or even NATO that exists. Without an official definition – the implied definition is used and such has sweepingly different definitions that are defined by each different attempt to interpret how it can be used.  
In such a world – it is Maan who has defined the narrative in her works and allowed for that definitive definition to be applied and to be understood in its role in modern warfare. From it one can gain the ability to focus the efforts that are required to both understand the role of the narrative and to apply that to planning and execution in a multi-level environment at both the operational and strategic levels. Her work on the narrative is a critical item for understanding Information Warfare and both its application in offensive and defensive strategies that are far past the conventional mindset approach to war."
– LTC (R) R. Eric Udouj
, Tampa, FL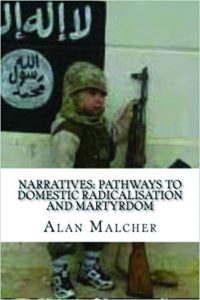 Narratives – Pathways to Domestic Radicalisation and Martyrdom by Alan Malcher
"Since the first edition was published in September 2013 positive feedback has been received from a number of readers and organizations involved in specialist police training. Following the suggestions of these readers this second edition looks deeper into the international threat posed by an infectious extremist ideology that has been created and enforced through the use of narratives which efficiently provide an indoctrination process leading to radicalization and extreme violence."