Defence and Intelligence Norway
We handle the truth
Editor-In-Chief: Jan H. Kalvik
E-mail: jan.kalvik@etterretningen.no
Phone (+47) 92205699
Associate Editor: Arne Gerit Halvorsen
E-mail: arnhalvorsen@gmail.com
Phone: (+47) 990 92 124
Managing Editor Intelligence Technology
Michael Fayerman
Phone: 917.509.5416
E-mail: michael.fayerman@yahoo.com
Counter-terrorism and Psychology Expert
Anne Speckhard, Ph.D
Adjunct Associate Professor of Psychiatry Georgetown University School of Psychiatry
E-mail: ASpeckhard@AnneSpeckhard.com
Website:www.AnneSpeckhard.com
Blog: AnneSpeckhard.wordpress.com
Anne Speckhard, Ph.D., is Director of the International Center for the Study of Violent Extremism (ICSVE) and serves as an Adjunct Associate Professor of Psychiatry at Georgetown University School of Medicine. She has interviewed over 700 terrorists, their family members and supporters in various parts of the world including in Western Europe, the Balkans, Central Asia, the Former Soviet Union and the Middle East. In the past five years years, she has in-depth psychologically interviewed over 250 ISIS defectors, returnees and prisoners as well as 16 al Shabaab cadres (and also interviewed their family members as well as ideologues) studying their trajectories into and out of terrorism, their experiences inside ISIS (and al Shabaab), as well as developing the Breaking the ISIS Brand Counter Narrative Project materials from these interviews which includes over 250 short counter narrative videos of terrorists denouncing their groups as un-Islamic, corrupt and brutal which have been used in over 150 Facebook and Instagram campaigns globally.
Counter-terrorism and Radicalisation expert
Ahmet S. Yayla, Ph.D.
Professor and Former Chief of Police
Harran University Faculty of Arts and Sciences
Chair of Sociology Department
(Currently residing in the U.S. on leave of absence)
Phone: 571 363 6168
E-mail: ahmetsyayla@gmail.com
Strategic Narrative Expert
Ajit Maan, Ph.D.
Dr. Maan is President of Narrative Strategies, Invited Affiliate Faculty of George Mason University's Center for Narrative Conflict Resolution, and Invited Affiliate Faculty at Union University's Interdisciplinary Doctoral Program. She is author of Internarrative Identity: Placing the Self, and Counter-Terrorism: Narrative Strategies, and editor of the book Soft Power on Hard Problems: Strategic Influence in Asymmetric Warfare and author of Narrative Warfare.
E-Mail:: ajit@narrative-strategies.com
Website: www.narrative-strategies.com
Academic website: www.ajitkaurmaan.com
Special Operations Expert
Paul Cobaugh
Mr. Paul Cobaugh retired from the US Army as a Warrant Officer after a distinguished career in the US Special Operations CT community, primarily focused on mitigating adversarial influence and advancing US objectives by way of influence. Throughout his career he has focused on the centrality of influence in modern conflict whether it be from extremist organisations or state actors employing influence against the US and our Allies. Post military career he was offered and accepted the position of Vice President at Narrative Strategies, a US based Think-Do Tank which specializes in the non-kinetic aspects of conflict. He has also co-authored, Soft Power on Hard Problems, Hamilton Publishing, 2017.
E-mail: paul@narrative-strategies.com
International Security/Risk Advisor
and HEAT (Hostile Environment Awareness Training) instructor
Claude Gonot
Senior International Security/Risk Advisor & HEAT training Instructor / Consultant Former Captain in a French Special Forces and Paratroopers for 30 years. Numerous military and commercial overseas deployments. Experience and skills combined with tenacity, autonomy, flexibility as well as excellent inter-personnel relations ranging from senior client representatives and diplomatic staff to local inhabitants.
http://linkedin.com/in/claude-gonot-988623121
International Intelligence, Anti-terror and Security Expert
Charles Støeng
Charles Støeng is a Norwegian security and anti-terror specialist with over 30 years of international experience. Educated in the French intelligence gathering community with an extensive experience from France, Europe, Africa, and for the last decade and a half, mainly in the Middle East. He is currently holding a senior security position in this region.
Link to Støengs LinkedIn profile: https://www.linkedin.com/in/charles-st%C3%B8eng-89358330/
Political scientist/futurist
Professor Sohail Inayatullah
Institutional Professor Sohail Inayatullah is the inaugural UNESCO Chair in Futures Studies. This was held at USIM, Malaysia from 2016-2020. He is a political scientist/futurist at Tamkang University, Taipei; an Associate at Melbourne Business School. From 2001-2020, he was Adjunct Professor from the University of the Sunshine Coast, Australia. From 2011-2014, he was Adjunct Professor at the Centre for policing, counter-terrorism and intelligence, Macquarie University, Sydney. In 1999, he was the UNESCO Chair in European Studies at the University of Trier, Germany. He is a researcher at Metafuture.org, a global think-tank and an instructor at https://www.metafutureschool.org/
Expertise
Inayatullah has authored and co-edited twenty-five books/cdroms, including: Futures Thinking in Asia and the Pacific: Why Foresight Matters for Policy Makers (2020); Asia 2038: Ten Disruptions that Change Everything (2018); Transformation 2050: the Alternative Futures of Malaysian Universities (2018); What Works: Case Studies in the Practice of Foresight (winner of the most significant work for 2016, the Association of Professional Futurists); and, CLA 2.0; Transformative Research in Theory and Practice (2015). Inayatullah has written more than 350 journal articles, book chapters, encyclopedia entries and magazine editorials. His articles have been translated into a variety of languages, including Catalan, Spanish, Urdu, Hindi, Bengali, Italian, Japanese, Russian, Indonesian, Farsi, Arabic, and Mandarin.
Presentations
In the past three years, among other groups, Inayatullah has addressed or conducted foresight workshops for the United Nations and Government of Egypt (oneline platform); Yoga Ecology Festival (online platform); UN-ESCAP, Bangkok, Thailand (online platform); Government of Abu Dhabi, Department of Culture and Tourism (online platform); Bribane Grammar School (online platform); the National Disability Practitioners (online platform); the Civil Service Institute, Office of the Prime Minister, Government of Brunei and Centre for Strategy and Policy Studies, Brunei; Office of the President, Republic of Argentina, Buneos Aires; Converge Capital Markets and Wfuturismo, Rio De Janeiro; Civil Service Institute and Centre for Strategic and Policy Studies, Government of Brunei; the Government of Kazakhstan, Nur Sultan; Brisbane Grammar School, Brisbane; National Agriculture Technology Institute, Buenos Aires; Brisbane Grammar School, Brisbane; Australia Federal Police and the National Commission on Crime Proceedings, Brisbane; the Pakistan Strategy Summit, Karachi; National Disability Services, Sydney; the Asia-Pacific Futures Network, Bangkok; National Economic Development Authority, the Government of the Philippines; Ministry of Education, the Government of Norway, Oslo; Government of Cambodia, Phnom Penh (Sponsored by the Asian Development Bank); Edmund Rice Education Australia, Sydney and Melbourne; The Ministry of Finance and National Planning Reform Commission (the Government of the People's Republic of China); the Institute for Futures Research, South Africa (via skype); the Government of Armenia, Yerevan (Sponsored by the Asian Development Bank); FAST Yerevan, Armenia; the Ministry of Education, Government of Sri Lanka, Colombo (via skype, sponsored by the Asian Development Bank); Ngai Tahu from New Zealand; Livingstone Shire Council,Yeppoon; The Coroners Court of Victoria, Melbourne; Mind Australia, Melbourne; the Obidyar Fellows, Honolulu; the Asian Development Bank Knowledge Forum, Manila; Z-Punkt, Koln (skype), Communify, Brisbane; Local Government Managers Association, Queensland, Twin Waters; Queensland Deaf Services, Brisbane; Sustainable Economic Growth for Regional Australia, Mackay; The Futures Institute, the Gold Coast; The Food and Agriculture Organization, Rome; Joint Research Centre, European Commission, Brussels; INTERPOL, Singapore; Beyond Storytelling, Hamburg; OIC and COMSATS, Kuala Lumpur; Australia Federal Police, Canberra; the South African Treasury and the University of Pretoria's Gordon Institute of Business Science; FAO, Bangkok; Prince Mahidol Foundation and the Rockefeller Foundation, Bangkok; the Global Leaders Forum, Seoul; Dadabhoy Institute of Higher Education, Karachi; Peryon People Management Association of Turkey, Istanbul; Swissaid, Geneva; UNESCO, Social and Human Services, Paris; United Nations Association of Australia, Perth; Universitair Centrum Sing-Ignatius Antwerpen, Antwerp; the Ministry of Education, Government of Malaysia, Kuala Lumpur; Hong Kong Police; Omidyar Fellows, Honolulu; Tablelands Regional Council, Queensland; Montesorri International College, the Sunshine Coast; Government of South Korea, National Employment Information Agency, Seoul; The Institute of Space Technologies, Islamabad, Pakistan; The Knowledge Park, Office of the Prime Minister, Government of Thailand, Bangkok; Adelaide City Council; Worldvision International, Geneva and London; Bond International, London; African Youth Futures Network, UNESCO, Paris; Council for Scientific and Industrial Research, South Africa; National Academy of Sciences and the Ministry of Science, Technology and Innovation, Government of Malaysia, Kuala Lumpur; Office of the Prime Minister, Government of Singapore, Singapore; Office of the President, Government of South Korea, Seoul; Office of the Prime Minister, Government of Canada; The European Commission, Brussels; Royal Automobile Club of Western Australia, Perth; Loreto Normanhurst, Sydney; Pearls of Policing (a consortium of Europol, the Dutch Police, the RCMP and the FBI), Hong Kong and Sydney; Australian Council for International Development, Canberra; the Ministry of Science, Research and Technology, the Government of Iran, Tehran; Victoria Government, Department of Health and Human Services; Jesuit Social Services, Melbourne; the Lowitja Institute, Melbourne; Centre for Investment Education, Melbourne; the City of Greater Geelong; Department of Fire and Emergency Services, Brisbane, and National Disability Services, Brisbane.
His corporate clients include: PWC, Sydney; The Rutherford Business Group, Auckland; RHB, Kuala Lumpur; Berjaya, Kuala Lumpur; Birdway Management Consulting, Hong Kong; Futures Platform, Helsinki; Bank Pembangunan Malaysia, Kuala Lumpur; Asahi Beverages, Brisbane; Bluescope Steel, Sydney; Northern Queensland Airports, Cairns; Optometry Australia, Melbourne; Bristol Myers Squibb, Singapore; Glaxosmithkline, Melbourne; Australian Pharmaceuticals Association, Sydney; Fuji Xerox, Sydney; Zurich, Sydney; AAMI, Sydney; Tenaga Nasional Berhad, Malaysia, Dow and Sadara Chemical Company, Dubai; National Transport Insurance, Queensland; Stepbeyond, Perth; the Family Wealth Forum, Sydney; Cisco, Melbourne; Indue, Sydney; Ozri, Melbourne; BUPA Group, Melbourne; Ergon, Queensland; Suncorp Bank, Queensland; and John Holland, Queensland.
Contact:sohail@metafuture.org
International Political Economy and Governance Expert
Senior Expert Editor
Arpit Chaturvedi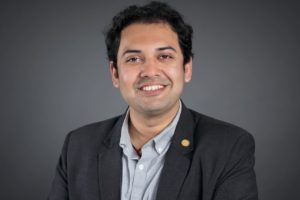 Arpit Chaturvedi is the Co-Founder and CEO of Global Policy Insights, a centrist Policy think tank. He is also the Co-Founder of EnviPol, an Environmental Consulting firm based out of India. Along with leading these organisations, he is a Lecturer at the San Francisco State University where he teaches Comparative Perspectives in Public Service to graduate students.
He is a graduate of the Cornell Institute for Public Affairs and holds an MPA degree (Pi Alpha Alpha) with a focus on Governance, Politics, and Policy Studies. He was also the first non-US citizen to hold the position of the Editor-in-Chief of the Cornell Policy Review. He is the author of the book "Our Egalitarian Universe?" and has been the editor of "Not Without her: Communal Harmony" – a monograph printed by the National Foundation for Communal Harmony, Government of India, with essays from the top civil servants of the country. He has published articles in various prestigious journals on the themes of democracy, governance, systems thinking, game theory, history and politics.
***
Feel free to contact us if you want to share your articles or your own experiences. *
* Do not under any circumstances send classified material by E-mail.