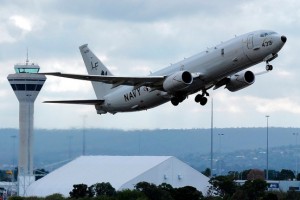 The Arctic Journal Writes: After almost a decade following the United States Navy quietly closing its facilities at Keflavík, talk began to circulate in the autumn of 2015 about a return of US forces to the same base it had occupied since 1951 as a pivotal component of American defences in the North Atlantic during the Cold War era.
These plans appeared to be affirmed after it was announced in February of this year that within the Pentagon's 2017 budget proposal was a request for $22 million to refurbish the installations at Keflavík in order to house American personnel as well as Boeing P-8 Poseidon aircraft (pictured above) which could be used for regional patrols, especially submarine hunting, and potential maritime interdiction activities.
Although there had been protests in Iceland, notably following the breakup of the USSR in 1991, over the American military presence in the country, the potential return of US forces has not generated much public opposition, reflecting the political atmosphere in Iceland as well as the changing geopolitics of the greater Arctic region.
Arne Gerrit Halvorsen, Defence and Intelligence Norway expert writer comments: Command and control in the area is important through NATO relationship from what we have learned in Norway. The fact that the Russian front line is outside the Norwegian coastline. This might be a new strategy with the two Norwegian intelligence wessels, Marjata, and the old Eger which has been on a major upgrade The reinforcement with the US returning to Keflavik is welcome. There is also in Vardoe/Norway being mounted a new radar. Things takes place and we have to know whats going on, on land, sea and air.