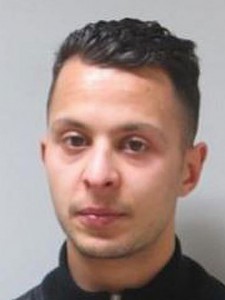 Salah Abdelslam – believed to be one of the November 13, 2015 Paris attackers in which one hundred and thirty persons were killed, was apprehended in a police takedown yesterday in Molenbeek, a neighborhood in Brussels. Abdelslam, a twenty-six year old French national, born and raised in Molenbeek (Brussels) had been the subject of a massive police raid after it was learned that he had rented the car that delivered attackers to the Bataclan concert hall in Paris, where more than eighty persons were killed.
By Anne Speckhard, Ph.D.
Counter-terrorism and Psychology Expert
Defence and Intelligence Magazine Norway
Abdelslam's brother, Ibrahim was also among the armed men and suicide bombers who attacked at the Stade de France (sports stadium), the Bataclan concert hall, and who opened fire in cafes and bars in Paris, ruthlessly killing innocents.
Shortly after the attacks took place, Salah Abdelslam called his friends in Brussels begging them to come in the early morning hours to take him back to Brussels. It later appeared that he had failed to detonate a suicide vest, which he is believed to have worn back to Brussels, where he disappeared shortly after his arrival.  Amazingly, Abdelslam passed a police checkpoint on his return from Paris, in which his ID was checked, and he was also later able to evade arrest in Belgium for four months.  Apparently his ISIS finances or his Brussels network were able to provide the support he needed to stay in hiding.
The hunt for Abdelslam heated up this week as I arrived in town ready to continue making ISIS defectors interviews. Tuesday, Belgian police were shot at during what they anticipated as a routine police search in a supposed empty home in Forest (another nearby Brussels neighborhood) that had been linked by telephone records to the Paris attackers. Algerian national, thirty-five-year-old Mohamed Belkaid—another male linked to the Paris attacks—was killed in that shootout. However two armed suspects escaped from the Forest raid, vanishing into thin air—and were believed to still be in Brussels. In the Tuesday raid, investigators found an Islamic State flag, a Salafi handbook, a Kalashnikov rifle and ammunition. Clearly the cell hiding in Forest was aligned to ISIS—if not actually taking orders from them—and armed for a fight.
Police thought it likely that one of the two escapees was Salah Abdelslam, as his fingerprints were found in the home—alerting police to the fact that he may have been hiding there. Since Tuesday, Belgian police were furiously searching for the two armed escapees. They had planned to raid additional sites in Molenbeek and neighboring areas on Saturday but a press leak about the fingerprints forced them into raiding today. Interestingly, I had just walked through the very neighborhood today, a half hour before police arrived. It was peaceful at the time. During today's police action in Molenbeek, Salah Abdelslam was shot in the leg and apprehended.  He is currently at hospital and has already had his first legal process.
How the supposed ringleader of the Paris attacks, Belgian Abdelhamid Aaboud traveled to Syria to join ISIS and then returned back to Belgium undetected is also hard to understand.  In our ISIS Defectors Interviews Project we have learned that the border between Syria and Turkey is easy to cross via smugglers and bribes, and also that ISIS is able to well fund its operatives for travel and equip them with weapons and explosives.  Likewise news sources report that ISIS has managed to obtain equipment to forge foreign passports. Although European members of ISIS hardly need forged passports to travel home, if their countries are unaware of their ISIS affiliations and travel to Syria—which is the case for many ISIS joiners when their families and neighbors fail to alert authorities.  Likewise, European countries still struggle with a unified system of cross border reporting and Turkey is not always fully sharing information with Europeans about those Europeans they know of who traverse through Turkey to join militant groups.
Belgium is unfortunately a country where discrimination and marginalization are serious issues for second and third generation immigrant descent Muslims – with Molenbeek with it's Moroccan immigrant descent population, for example having a thirty percent unemployment rate. Groups like Islamic State with its so-called "caliphate" pour gasoline on the embers of frustrated aspirations of immigrant descent Muslim youth and converts—offering them purpose, meaning, significance, belonging, status, a sense of religious purity, the possibility of earning the rewards of "martyrdom," and even "sex now" in terms of arranged marriages and sex slaves offered to young men who may routinely encounter in their home country hiring remarks like "Jamal, it would be hard to hire you here with your Moroccan name." The rate of Belgians going to join groups like ISIS in Syria is the highest per capita in Europe.
How Salah Abdelsalam managed to hide out in Belgium for four long months will be a question hopefully well answered over the coming weeks. But in the meantime it's important to note that Moroccan second generation youth here experience a sense of collectivism in the tight knit ethnic neighborhoods that they have a hard time breaking out of, and they also don't like snitching on their neighbors.  It's common to have run-ins with the law—but community members have an ethic of not "snitching" on each other.  When asked tonight if some Molenbeek residents likely knew that Salah Abdelsalam was hiding out in "plain sight" among them, one young immigrant man answered, "If we knew, we'd never tell because the punishments would be too strong for snitching."
About the writer:
Anne Speckhard, Ph.D. is Adjunct Associate Professor of Psychiatry at Georgetown University in the School of Medicine and is Director of the International Center for the Study of Violent Extremism (www.ICSVE.org) and is a nonresident Fellow of Trends. She is also the author of Talking to Terrorists and coauthor of Undercover Jihadi. Her newly released book, inspired by the true story of an American girl seduced over the Internet into ISIS, is Bride of ISIS.  Dr. Speckhard has interviewed nearly five hundred terrorists, their family members and supporters in various parts of the world including Gaza, the West Bank, Chechnya, Iraq, Jordan and many countries in Europe. She was responsible for designing the psychological and Islamic challenge aspects of the Detainee Rehabilitation Program in Iraq to be applied to twenty thousand detainees and eight hundred juveniles.  She is currently running the ISIS Defectors Interview Project with Dr. Ahmet Yayla at ICSVE. Personal website: www.AnneSpeckhard.com