The interaction between people and new technologies is what will give the NATO alliance the greatest challenges in the future, says NATO Secretary General Jens Stoltenberg in an interview published by FFI, who celebrates 75 years.
More than a hundred Norwegian researchers are at all times engaged in work with research and development in NATO. In 2021, FFI marks its 75th anniversary. In this context, we asked the NATO chief what research and technology development will mean for future co-operation in the alliance.
After World War II, it was clear that research and development (R&D) of military technology was becoming increasingly crucial. In 2021, is NATO where the alliance should be in the field of R&D?
Science and technology have been an essential underpinning to the success of NATO and the Alliance. However, preserving our technological edge is a constant challenge. Science and technology continues to develop at an amazing pace and there is a risk to see this technological and capability edge eroding, if we do not invest more, financially but most importantly, in research and development, said Stoltenberg.
Changes in the scientific and technology landscape challenge us with widely available technological developments, and developments increasingly commercial in nature, available to those that may wish us harm.
Departing Director General John-Mikal Størdal believes FFI should be shrouded in a certain aura of mystery.
So no, we are not yet where the Alliance should be in applying emerging and disruptive technologies. Alliance leaders recognize this. They are taking concrete steps to address it.
At the Brussels NATO Summit on 14 June, we decided to create a Defence Innovation Accelerator for North Atlantic (DIANA).
We also agreed to establish a NATO Innovation Fund, where Allies who so wish can support start-ups working on dual-use emerging and disruptive technologies in areas key to Allied security.
These new defence innovation initiatives, the active engagement of all NATO stakeholders and communities, and the increased use of science to address climate change are just examples where NATO is looking to raise its game in the development and use of emerging and disruptive technologies to support our military, as well as increasing the engagement with the scientific community.
Between 50 and 100 FFI researchers are at all times engaged in work directly related to R&D in NATO. What role do small research institutions like FFI play in the alliance?
I had the opportunity to visit FFI. The quality of the research and development efforts undertaken by the team in several critical domains impressed me, Stoltenberg recalled.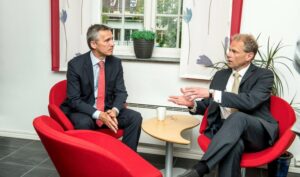 No nation or institution holds the monopoly over good ideas, no matter how large or small. Research institutions play a critical role within the collaborative NATO science and technology (S&T) community.
Creativity and insights know no national borders, and often the intellectually rich nations, such as Norway, stimulate the development of creative solutions to scientific, technical and military problems that others may not have considered. This becomes even more important as part of the collaborative nature of NATO S&T where FFI contributions open up access to the larger S&T community and the sharing of knowledge across the Alliance.
At the end of the day, all Alliance nations bring to the table their best and together our contributions enable and strengthen us all. This is especially true with the research community. Our strength as an Alliance lies with the combined efforts of all within the larger S&T network, and FFI plays a major role within that network in selected areas that play to FFI's outstanding intellectual and technological qualities.
The fact that FFI has created and delivered the radar RIMFAX (Radar Imager for Mars' subsurface experiment) is just one demonstration that innovation occurs where people have imagination, expertise and dedication. It also demonstrates that technology initially developed for our military can be used elsewhere, in this case not only in the civilian world, but also on other planets.
Are there new technologies and innovations within the Alliance that you personally find it exciting to follow?
There are many but let me pick just a few. Artificial intelligence is one that is critical to allow NATO to develop a decisive advantage, understand the vast amounts of data around us, help driving autonomous systems, and many others.
AI at the same time is presenting legal, ethical and policy challenges that we need to address together. However, being able to integrate and work seamlessly with AI enabled systems will allow NATO at all levels to out-think and out-act those that wish us harm.
AI, combined with big data, advanced analytics and increased use of autonomy, will fundamentally change our capabilities, allowing faster, more accurate and more effective forces.
We are moving into an era where every warship may act as a task group, every soldier as a squad and every aircraft as a squadron, by integrating these technologies together, in what we call clusters of technologies.
NEWS
FFI launches anniversary magazine in English
FFI marks 75 years with an anniversary magazine, in which former Director General John-Mikal Størdal states that FFI is James Bond's "Q".
Norway and Norway's defense is "NATO in the North". Are there technologies and innovations that Norway should concentrate on within NATO in the coming years?
Norway is a key defender of NATO and its northern operations in concert with other arctic nations. Norway plays a central role in helping our Alliance understand and address challenges in the High North. This is especially important as climate change affects the geostrategic nature of the arctic. Norway's technological and innovation prowess in Intelligence, Surveillance, Reconnaissance, maritime systems, applied AI, nuclear verification, remote sensing, and climate monitoring are areas of extreme value to NATO.
We should also not forget the key role that Norwegian science can play in understanding human performance and biotechnologies, especially as they pertain to operations in extreme environments such as the arctic.
While it is tempting to focus on technology, in the end, it is the human aspects and the interaction of humans with these technologies that provide us our greatest challenges.
Norway has a lot to offer the Alliance in these areas.