Speach by Minister of Defense, Frank Bakke-Jensen, at "Looking North", a conference on security in the Arctic by the Atlantic Council (19.03.2021)
Thank you, and it is a great pleasure to speak to you from my Arctic hometown of Tromsø.
As my colleague, the Minister of Foreign Affairs, pointed out, around nine percent of our population lives north of the Arctic Circle.
However, the High North is our strategic centre.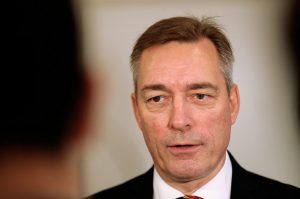 Minister of Defence (MoD) Frank Bakke-Jensen.
Both because of its strategic importance, and the wealth of resources found here.
*
The Arctic region has always been of great significance to transatlantic security.
An importance that is only increasing.
As climate change opens new sailing routes and ice-free areas, the Arctic is commercially more interesting.
We also witness increased military activity and more strategic signalling.
This is primarily a function of the increased geopolitical rivalry and competition in general.
It is not a function of the dynamics in the region itself.
It is therefore important to see the development in the Arctic in a broader context.
Norway follows this development closely, as the only NATO member bordering Russia in the High North.
*
Russian armed forces have significantly modernized during the last 10-12 years.
Its capabilities are increasingly integrated.
Giving Russia a much more capable and flexible tool.
Russian presence in the Arctic has increased through both military and civilian infrastructure.
The Russians have modernised their underwater capabilities.
They have improved their ability to deploy troops rapidly over great distances.
Russia is now also more capable in terms of conventional long-range precision weapons.
Together, this reduces the warning time for NATO countries to hours and days.
*
We also see more Russian maritime activity in waters close to Norway.
The Barents Sea is optimal for testing new weapon systems.
The Russian activity is now more complex and takes place in areas further west and south than before.
Demonstrating Russia´s ability to project force far into the Atlantic.
As the Minister of Foreign Affairs mentioned, the revived Bastion defence concept includes vast areas of the Atlantic.
And from its new airbase on Franz Joseph Land, Russia is now able to conduct air operations over vast areas in the Arctic.
This Russian ability to reduce NATO's freedom of movement is particularly worrying for transatlantic security.
*
At the same time, China's interest in the Arctic is increasing.
China has defined itself a "near Arctic State", and we expect them to be more active there in the future.
China is also strengthening its icebreaker capacity.
And its space-related activities also involve the Arctic.
The Chinese presence and activity in the Arctic is still modest.
However, it is important to follow these developments closely.
*
We also see that Russia and China are developing their strategic partnership.
However, the two countries do not always share the same interests.
Especially when it comes to areas that Russia perceives as its core interests regarding national security.
*
Together, these developments mean that Norway and NATO need to maintain and strengthen deterrence and defence in the Arctic region.
And I would like to emphasise four aspects that are essential to Norway and to the Alliance:
*
First, NATO must continue to strengthen its ability to operate in the transatlantic area.
The defence of this area depends on secure sea-lanes of communication across the Atlantic.
We must therefore be able to handle threats to our freedom of movement at sea.
The establishment of Joint Force Command Norfolk contributes to this.
As well as the resurrection of the U.S. Second Fleet.
*
Joint defence plans and increased situational awareness are vital.
So is regular training and operations in an arctic climate.
Therefore, Norway welcomes Allied training and presence in the Arctic.
The Arctic is a very important arena for the cooperation between the United States and Norway.
As we speak, the US Air Force is conducting operations with four of its B-1 bombers from Ørland air base in Central Norway.
This deployment represents a unique opportunity for cooperation and joint training with the Norwegian Air Force, land forces and Navy.
*
Allied activity in the region shows allied cohesion.
As well as our shared interest in maintaining the Euro-Atlantic space as a region characterised by freedom, peace and stability.
At the same time, the scope of Allied activities must be measured to avoid unnecessary escalation and misunderstandings.
*
Second, Norway must continue to contribute to NATO's collective defence and deterrence.
European allies have to take greater responsibility for maintaining Allied capacity.
We must improve the burden sharing within the Alliance.
Norway takes its share of this responsibility.
Since 2013, we have increased our defence budget with 30 percent in real terms.
We spend two percent of GDP on defence, and we have a high investment rate of about 29 percent.
We have invested in new strategic capabilities, such as F-35 fighters, P-8 maritime patrol aircrafts and submarines.
We are also increasing the capabilities of our intelligence service.
Together, these measures strengthen Norway's presence in the Arctic.
Thus increasing our ability to maintain a good situational awareness on behalf of the Alliance.
This improves our ability to protect Norwegian sovereignty and contribute to Allied security in the Arctic region.
*
Third, it is essential for Norway to maintain and develop our relationship and cooperation with the United States.
As my colleague said, the United States is our most important ally.
A long-standing partner in the Arctic and of critical importance to Norwegian security.
We have longstanding cooperation within all services.
As seen with the B-1 bombers currently training in Norway.
And the regular training and exercises with the forces from the US Marine Corps.
This training is an opportunity for US forces to improve its ability to operate in an Arctic climate.
And for our forces to increase their interoperability.
We also have significant cooperation within the military industry as well as research and development.
Norway also contributes to the full spectrum of U.S. and NATO-led operations.
Together, all of this strengthens our bilateral relationship.
*
Fourth, for Norway it is important to maintain the balance between deterrence and reassurance vis-à-vis Russia.
NATO must also preserve that balance.
We want to be transparent and predictable, and we expect the same from Russia.
Dialogue and communication about our intentions is an important confidence and security building measure.
As mentioned by the Minister of Foreign Affairs, our neighbor has over the past few years become more expansive and less predictable.
Making Russia a strategic challenge and a demanding neighbour.
Even though Norway is realistic in our relationship with Russia, Norway's long-term goal remains to have the best possible relationship.
We believe that we and our allies, as well as Russia, have a common interest in maintaining stability in the Arctic region.
*
Finally, let me thank the Atlantic Council for our excellent partnership.
Arenas that foster dialogue and cooperation are welcome, and I appreciate this opportunity to participate in this year´s conference on Arctic security.
So, thank you for your attention.