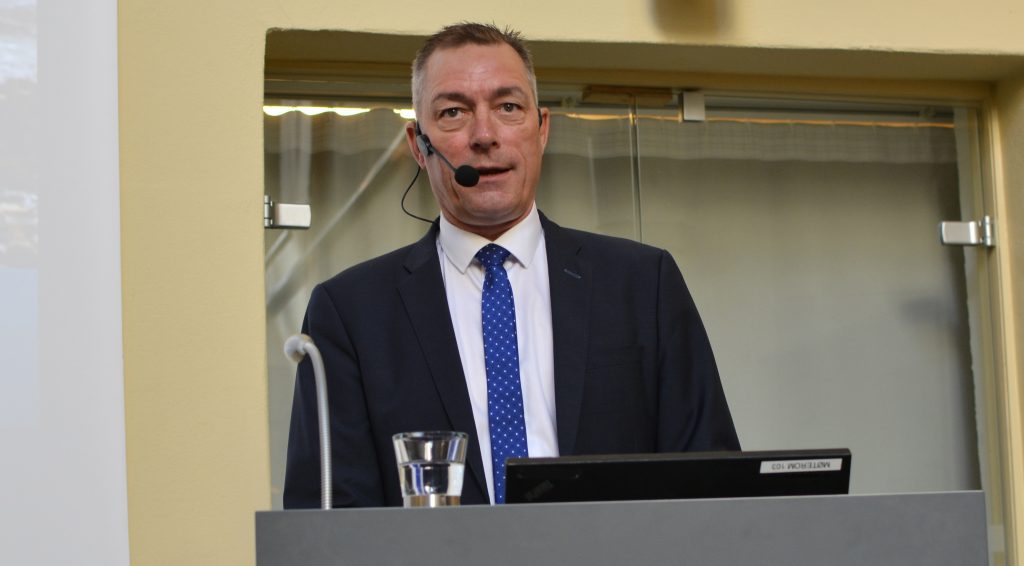 A serious security crisis in the Nordic region would affect all the Nordic countries. That is why Norway, Sweden, Finland, Denmark and Iceland are conducting more military exercises together.
By Ministers of Defence: Frank Bakke-Jensen (Norway), Claus Hjort Frederiksen (Denmark), Peter Hultqvist (Sweden), Jussi Niinistö (Finland) og utenriksminister Gudlaugur Thór Thórdarson (Iceland)
Right now, some 50.000 soldiers from 31 countries are engaged in a major exercise to test our ability to operate together in a wartime situation. Exercise Trident Juncture 2018 is NATO's largest full-scale military exercise in decades. It demonstrates the Alliance's revitalized focus on collective defence of its member states and the geopolitical importance of the Nordics as Europe's northern flank.
Trident Juncture is a unique opportunity for NATO and its partners Sweden and Finland, to test our ability to operate together in the challenging Nordic climate, from our rugged terrains to the North Atlantic and the Baltic Sea. This is important. Not just because it makes us better at defending ourselves, but because it strengthens the bond between our countries and sends a strong signal to anyone who may want to use military power to force our will.
No military threat against the Nordics
We see no military threat against the Nordic region today. However, we are living in unpredictable and uncertain times. A more assertive Russia has demonstrated both the will and ability to use military power for own strategic gains. Cyber-attacks and disinformation are fuelling political polarization in both Europe and the US, which in turn is challenging democratic institutions and our ability to compromise. International terrorism is changing how we think about security, migration has emerged as the perhaps number one dividing force and climate change is affecting all of these issues in ways we cannot fully predict.
Stronger together
Bound together by geography, history, culture and values, we share a common responsibility to maintain peace and stability in our neighbourhood. We are firm believers in dialogue, transparency and a predictable world order based on international law and binding agreements. Unfortunately, not all countries share those beliefs. Having a credible military capability is therefore necessary. While Denmark, Norway and Iceland are members of NATO, Sweden and Finland are not. By exercising together – and with NATO – we improve our ability to act together as neighbours, should it ever become necessary. Not instead of NATO, but in addition to.
13.000 Nordic soldiers 
That is why the Nordic contribution to Exercise Trident Juncture is substantial, with over 13.000 soldiers and a great number of civilian personnel. In a fine example of Nordic cooperation, army elements from Finland will operate as part of a Swedish brigade and Danish helicopters will support the Norwegian Brigade. NATO and partner forces from Finland and Sweden will use military bases and airfields in all the Nordic countries, with the strategically important Iceland serving as a central hub, gateway and staging area for deployment and sustainment of allied forces across the North Atlantic.
Increased Nordic and allied military cooperation
This level of participation from the Nordic countries in Trident Juncture is a clear and deliberate result of our joint efforts to improve Nordic defence cooperation. We are training and exercising together more than before. We exchange air surveillance information and we have enabled rapid movements of troops and equipment between our countries by removing administrative barriers for military mobility. NATO and the EU have adopted a similar initiative based on the Nordic success.
The Nordic Neighbourhood Watch
We may have different security affiliations, but we are neighbours in the North. A security crisis in our neighbourhood would affect us all, and our ability to solve it will only be as good as our ability to cooperate – together and with friends and allies. That is why Exercise Trident Juncture is so important. And why you should care about Nordic cooperation.