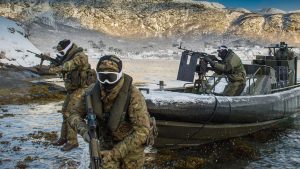 On Wednesday 30 May, representatives from Norway, Sweden, Finland and the UK will discuss the multinational contingency force JEF, following an introduction by the Norwegian Minister of Defence (MoD) Frank Bakke-Jensen.
Date: Wednesday 30 May 2018
Time: 08.30–10.30 (coffee and registration from 07.45. The MoD starts at 8.30 sharp, please be here on time.)
Venue: Norwegian Institute for Defence Studies (IFS), Kongens gate 4
SIGN UP FOR "JOINT EXPEDITIONARY FORCE (JEF)"
The Joint Expeditionary Force (JEF) is a multinational contingency force led by the United Kingdom. Its purpose is to conduct a variety of missions, including high intensity operations.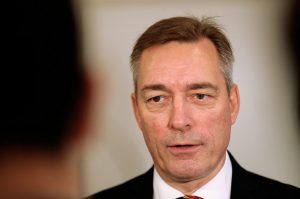 JEF was officially launched as a British initiative at the NATO summit in Wales in September 2014. Norway, Denmark, the Netherlands and the Baltics have taken part in JEF from the beginning, whereas Finland and Sweden joined in June 2017.
This contingency force consisting of contributions from nine Northern European countries will be operational following a final exercise in April/May, and the subsequent signing of a joint document. The IFS research programme Security and Defence in Northern Europe (SNE) will therefore host this conference on the subject at the end of May.
The Conference
The conference aims to enhance understanding of the JEF through a qualified debate, with both political and military contributions. By including representatives from both NATO and non-NATO countries it also aims to provide different perspectives on the concept.
Programme
Welcoming remarks 
Professor Kjell Inge Bjerga, Director IFS
Keynote opening
Frank Bakke-Jensen, Norwegian Minister of Defence
Panel
British perspectives: Air Vice Marshal Bruce Hedley, Director Joint Warfare Joint Forces Command (UK)
Norwegian perspectives: Major General Yngve Odlo, Chief Operations, The Norwegian Defence Staff
Swedish perspectives: Rear Admiral Jonas Haggren, Head of Policy and Plans Department in the Joint Defence Staff/Swedish Armed Forces HQ
Finnish perspectives: Brigadier General Vesa Virtanen, Chief of Planning, The Finnish Defence Forces
Panel debate
Moderated by Professor Rolf Tamnes, IFS
Closing remarks
Professor Kjell Inge Bjerga, Director IFS
More information:
More background information: