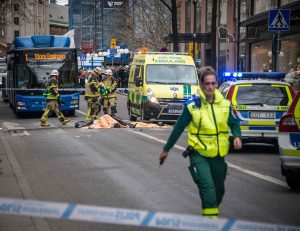 It is a sunny Friday afternoon in Stockholm, the capital of Sweden. Thousands of people have come out of their winter hiding to enjoy the weekend's bright sunny, spring weather. Many of them are walking down Queens Street, a 1.5 kilometer long pedestrian street running through town, connecting its older parts to more newly built areas.
By Louisa Tarras-Wahlberg, Research Fellow
International Center for the Study of Violent Extremism
Suddenly a heavy delivery truck turns a corner running down the street at a speed of 80 kilometers an hour. The beer truck had been hijacked just a couple of minutes earlier outside a restaurant where it was delivering goods. It drives, swerving back and forth progressing nearly 600 meters along the pedestrian walkway tragically and brutally decimating everything in its path — even according to a witness, dragging a baby in its pram—along its way with it before crashing into the entrance of the city's largest department store, Åhlens, a common meeting spot where hundreds of people are standing waiting for friends to show up.[1]
Thirty-nine-year-old, Rakhmat Akilov from Uzbekistan had recently has his asylum claim in Sweden rejected and was sought for deportation by the authorities. He had also drawn the security services' attention after showing interest in material stemming from both ISIS and Hizbut Tahrir (HT).[2]  HT is a banned group in his native Uzbekistan and is suspected in Central Asia of being a feeder group into ISIS.  Akilov had also been investigated by the security services who could not validate any criminal activities. In his attack, Akilov who used a high-jacked truck to kill, jumped out of it holding a handgun and took the time to set the truck on fire —likely hoping to ignite explosives found inside—before running from the scene, severely burnt. ISIS has not yet claimed the attack by Akilov who left fifteen people injured and four dead, one of them an eleven-year-old girl walking home from school.[3]
The attack in Stockholm is the fourth of its kind to hit Europe. Similar acts where vehicles have been used as deadly weapons by fanatics have been seen in Nice, Berlin and London, with another two truck attacks were thwarted in Spain and Belgium.[4] This is hardly surprising for those keeping close track of ISIS official propaganda. In the last year, a shift has been observed where ISIS-supporters, who were called upon to migrate to the so-called Islamic State, are instead advised to stay at home to carry out acts of violence in support of the organization.
Official ISIS-propaganda commonly makes explicit recommendations on how to optimize the killing of civilians under the headline "Just Terror". Among the recommendations made is that of using a truck as a tool of terror. The newly introduced ISIS-magazine Rumiyah – a successor to the more well-known Dabiq – is a case in point. The third edition features an article treating the subject in great detail, highlighting the benefits of employing this method:
This was superbly demonstrated in the attack launched by the brother Mohamed Lahouaiej-Bouhlel […] in Nice, France.[5]
The referenced attack in Nice took the life of 86 people while injuring 434.[6] Although being more deadly than any of its counterparts in other European cities they all share similar traits that confirm the effectiveness of ISIS-propaganda in spreading deadly ideas. Many of the recommendations made in Rumiyah were directly followed by the Akilov, among them the type of vehicle used. The article reads:
Observing previous vehicle attacks, it has been shown that smaller vehicles are incapable of granting the level of carnage that is sought. […] One of the main reasons for this is that smaller vehicles lack the weight and wheel span required for crushing many victims. Thus, smaller vehicles are least suitable for this kind of attack. Rather, the type of vehicle most appropriate for such an operation is a large load-bearing truck.[7]
The attacker also took ISIS advice on how to acquire the vehicle used. Hijacking a truck is highlighted as one of many possible ways to carry out the task. Rumiyah advices:
If one has the wealth, buying a vehicle would be the easiest option. Alternatively, one could rent a vehicle or simply ask to borrow one from an acquaintance or relative who owns or has access thereto. For the one not capable of attaining a vehicle by any of these means, there is the option of hotwiring or carjacking a vehicle.[8]
Advice is further given on the most suitable targets to choose. Again, pedestrian streets are highlighted as appropriate venues for "just" terror attacks as they allow for acceleration of the vehicle which maximizes the level of destruction and death. Seen through this perspective Queens Street in Stockholm was an ideal target, a wide and straight street with few security barriers. Rumiyah declares: When deciding on the target, attention should be given to that target's accessibility by the vehicle. The target should be on a road that offers the ability to accelerate to a high speed, which allows for inflicting maximum damage on those in the vehicle's path.[9] Finally, Akilov's bringing of a handgun is what official ISIS-propaganda refers to as the use of a "secondary weapon". This tactic is both advised and applauded by the organization:
Having a secondary weapon, such as a gun or a knife, is also a great way to combine a vehicle attack with other forms of attacks. Depending on what is obtained, the kill count can be maximized and the level of terror resulting from the attack can be raised.[10]
In the field of counter terrorism we need to expect both the unexpected and the expected. Networks or small cells of terrorists will always be hard to detect for security services. We can however make it difficult for terrorists to succeed with their plans by keeping close track of ISIS propaganda and advice to its followers.  They often publish information in plain site that can give us a general idea of possible targets that we might be able to harden, methods that we might be able to make more difficult and dates for action when we can be alert. Using these indicators we should attempt to better guard probable locations. Years ago, counter-terrorism expert Reuven Paz wrote a piece entitled "Reading their Lips" warning that terrorists often publish to their own followers important details about their plans and intentions, words that we should take as seriously as they mean them—as they often do exactly as they say.[11] In the case of the Stockholm attack this would have entailed things such as better physical cement barriers separating pedestrians celebrating the commencement of spring from the dangers of a fanatic operating a heavy truck with the purpose of killing as many innocent civilians as possible.
Reference for this report: Tarras-Wahlberg, Louisa. April 11, 2017.  The Truck as a "Just" Tool of Terror – What we can Learn from the Stockholm, Sweden Attack. ICSVE Brief Reports. http://www.icsve.org/brief-reports/the-truck-as-a-just-tool-of-terror-what-we-can-learn-from-the-stockholm-sweden-attacks/
[1] Adam Svensson, "Dådet på Drottninggatan: Detta har hänt", Dagens Nyheter, 2017-04-09
http://www.dn.se/sthlm/dadet-pa-drottninggatan-detta-har-hant/
[2] Lasse Wierup, "39-åringen saknade skyddsbehov och ljög om sin identitet", Dagens Nyheter, 2017-04-10
http://www.dn.se/sthlm/39-aringen-saknade-skyddsbehov-och-ljog-om-sin-identitet/
[3] Adam Svensson, "Dådet på Drottninggatan: Detta har hänt", Dagens Nyheter, 2017-04-09
http://www.dn.se/sthlm/dadet-pa-drottninggatan-detta-har-hant/
[4] Michael Winiarski, "Dådet har likheter med attackerna i Berlin och Nice", Dagens Nyheter, 2017-04-08 http://www.dn.se/arkiv/nyheter/dadet-har-likheter-med-attackerna-i-berlin-och-nice/
[5] Author Unknown, "Just Terror", Rumiyah, Issue Three, pp 10-12
http://qb5cc3pam3y2ad0tm1zxuhho-wpengine.netdna-ssl.com/wp-content/uploads/2014/09/Rumiyah-ISIS-Magazine-3rd-issue.pdf
[6] Author Unknown, "Nice attack: What we know about the Bastille Day killings", BBC News, 2016-08-19
http://www.bbc.com/news/world-europe-36801671
[7] Author Unknown, "Just Terror", Rumiyah, Issue Three, pp 10-12
http://qb5cc3pam3y2ad0tm1zxuhho-wpengine.netdna-ssl.com/wp-content/uploads/2014/09/Rumiyah-ISIS-Magazine-3rd-issue.pdf
[8] Ibid.
[9] Ibid.
[10] Ibid.
[11] Reuven Paz, "Reading Their Lips: The Credibility of Militant Jihadi Web Sites as 'Soft Power' in the War of the Minds" NATO Science for Peace and Security Series – E: Human and Societal Dynamics, Vol 60. 2009
Louisa Tarras-Wahlberg (BA, MPS) is a Research Fellow at ICSVE writing about Violent Extremist organizations, women and preventive measurements. She graduated with distinction in Political Science from Stockholm University, and carried out in-depth studies in International Relations at University ofWashington as part of her degree. She holds apostgraduate degree with distinction in Security Policy from the Swedish Defence University. Her master thesis "Promises of Paradise? A study on Official ISIS-propaganda Targeting Women" was well received and led to her working for the Swedish Government Offices focusing on preventing Violent Extremism. Previous works by Ms. Tarras-Wahlberg have been published by think tanks such as International Center for Counter-Terrorism – The Hague (ICCT), Human Security (Mänsklig Säkerhet) as well as the NGO Swedish Association of Local Authorities and Regions (SKL). She also lectures within the field of Counter Radicalization both internationally and locally. Most recent activities include participating at a Euro-Regional conference held by WANA Institute and events organized by the Swedish Prison and Prohibition Service and the United Nations Associations. Louisa is fluent in four languages speaking Swedish, English, German and Portuguese.