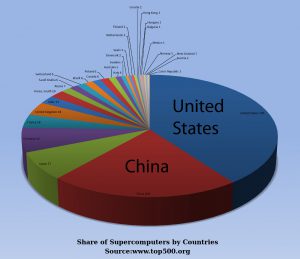 Sunway TaihuLight  became the fastest supercomputer in the world. The previous champion came also from China. What used to be an arms race for supercomputing primacy among technological nations has turned into a major failure by USA
By Michael Fayerman
Managing Editor/ Intelligence Technology Expert
The Sunway TaihuLight is indeed a "TYRANNOSAURUS": peak performance of125 petaflops, 10,649,600 cores, and 1.31 petabytes of  memory. The size of this "monster"  is also beyond anything available.
Fifteen years ago, China had zero of the top 500 supercomputers in the world. Today, it not only has more than everyone else – including the United States – but its best machine boasts speeds five times faster the best the US can handle. The most important factor  it achieves those super speeds  with purely China-made chips.
The faster the supercomputer,
the more precise the models and simulations
On that basis alone, TaihuLight is a singular accomplishment. Its 10.6 million cores are more than three times the previous leader, China's Tianhe-2, and nearly 20 times the fastest US supercomputer, Titan, at Oak Ridge National Laboratory.
Still, hardware's not the only factor. Since supercomputers run specialized tasks, they require specialized software.
TaihuLight passes that test, too. In fact, three of the six finalists for a prestigious high-performance computing award are applications built to run on TaihuLight. Aside from relatively slow memory – the trade off to save money and power consumption—this machine is ready to go to work. TaihuLight is faster than anything scheduled to come live in the US until 2018, when three Department of Energy sites will each receive a machine anticipated to range from 150 to 200 petaflops. That's ahead of where China is now—but several years is half an eternity in computer-time.
"Massive domestic gains in computing power are necessary to address the national security, scientific, and health care challenges of the future," says Rep. Randy Hultgren, a Republican from Illinois whose American Super Computing Leadership Act has twice been passed by the House of Representatives. "It is increasingly evident that America is losing our lead." Meanwhile the DOE is working on innovating with the budget it has.
The other significant TaihuLight achievement stings US interests even more, because it's geo-political. China's last "monster", Tianhe-2, had Intel inside. But in February of 2015, the Department of Commerce, quoting national security concerns—supercomputers excel at crunching metadata for the NSA banned the sale of Intel Xeon processor to Chinese supercomputer research  labs.
Rather than slow the rate of Chinese supercomputer technology, the move appears to have had the opposite effect. As the result China created its own incredible chip. I suspect that purchase of Lenovo by China helped China in developing its own chips. In addition, do not underestimate the industrial espionage of China.
TaihuLight's  leaders claim that they're putting all that power toward advanced manufacturing, Earth-system modeling and weather forecasting, life science, and big data analytics. That sounds like a broad range, but it's just a small piece of what supercomputers' functionalities. The most important aspect that US should be worried its rocket launching and countering Anti Ballistic Missile systems.
These machines facilitate  the creation of new ABM technologies, space exploration, biotech and other technologies that require powerful  machines. Unfortunately, under Obama this put US way behind and times to catch up. The biggest  concern that TaihuLight is build is using Chana made processors. TaihuLight is not just a supercomputer but a major weapon system that could  put China ahead of the United States.